Surely the acronym ODS sounds familiar to you. Already in 2015, the 17 Sustainable Development Goals (SDGs) were established with the goal of meeting them by 2030. Thus, everyone, from governments to organizations, companies and citizens themselves, is committed to working to achieve the end of poverty, zero hunger, gender equality, the sustainability of cities and ecosystems and a host of purposes that will change the lives of millions of people and the planet. Bemariposa project starts from these objectives. We want to offer you a marketplace with carefully selected products and services based on SDG-guided criteria. Thus, you can buy responsibly, supporting projects with social and environmental impact that are committed to innovation and sustainability.
But how does Bemariposa contribute to achieving these goals? Here we develop it with some examples:
SDGs 1, 2, 3, 4 and 10: end of poverty. Zero hunger. Health and well-being. Quality education. Reduved inequalities
Fair Trade is a very powerful tool to dignify the lives of producers and their environment. At "Bemariposa" you will find Fairtrade products, with very demanding standards guaranteeing fair wages and promoting the development of local communities. Thus, with your purchase, you will be contributing to the improvement of the quality of life of many people, the empowerment of women producers and also boys and girls schooling. The result? A more egalitarian world, in which the differences between rich and poor are minimized.
Goal 5: Gender Equality
We are clear: sustainable development has women as protagonists. Therefore, fighting for gender equality is essential to build a fairer world. The brands that you will find in Bemariposa fulfill inclusive labor practices and are clearly positioned in favor of the rights of women and girls around the world.
Objective 6: Clean water
Proper waste treatment is essential to keep our rivers and seas clean. In our sustainable marketplace we choose brands with production processes that include proper waste management. That is why we can guarantee that your purchase is 100% responsible and respectful with the environment.
Objective 7: Clean energy
Bemariposa brands choose clean energy sources and make efficient use of them. They reduce their energy consumption to the maximum in an intelligent way, to minimize their emissions and expense. And, if you have doubts about how they do it, they will tell you delightedly, because transparency is in their DNA.
Objective 8: Decent work and economic growth
As we were saying, the Fair Trade movement is one of the strictest in terms of working conditions. So if you buy a product with a Fairtrade seal, you can do it with complete peace of mind. But at Bemariposa we go much further: we concentrate on brands that have a viable model, allowing them to become source of quality employment. We also choose those committed to the groups that most need a job i.e people at risk of exclusion, with functional diversity, victims of male violence, etc.
Objective 9: Industry, Innovation and Infrastructure
By, buying at Bemariposa you support the projects of entrepreneurial people who work to improve the quality of life of people and the environment, with their innovative ideas.
Goal 11: Sustainable cities and communities
Sustainable urban planning and mobility, as well as ecological architecture are essential to transform our cities and turn them into healthy environments. At Bemariposa we want to give space to those initiatives aimed at changing life in cities for the better. We will do it very soon, adding sustainable and responsible professional services to our marketplace.
Objective 12: Responsible consumption and production
To reduce our ecological footprint, we need to change the way we produce and consume. Brands added to Bemariposa make efficient use of water, energy and raw materials. They are very careful when it comes to treating their waste, recycling and circular economy. They create long-lasting products, because buying less and better is the key to a conscious lifestyle.
ODSs 13, 14, and 15: Climate action. Submarine life. Terrestrial ecosystems life
Bemariposa wants to help conscious and critical consumers make responsible purchasing decisions. We can mitigate the effects of the climate crisis by choosing better what we buy and from whom we buy. We are very clear that our purchase can make a difference, because this is why we place the care of the planet at the center. In our marketplace choosing products from sustainable forests and cruelty free is a simple task.
Objective 16: Peace, Justice and Strong Institutions
Well Informed people have the ability to demand changes from organizations, companies and the institutions themselves. At Bemariposa you can support projects that actively defend human rights and that are completely transparent. If you are concerned that your money is financing activities of questionable ethics, in our marketplace you can buy with total peace of mind.
Goal 17: Partnerships for the Goals
Partnerships and joint work are essential to get closer to the SDGs. Development cooperation is a very useful tool to achieve them. For this reason, at Bemariposa we also give space to NGOs and projects that work at improving life in less favored countries. It is up to you to decide if you want to support their work with your purchases. All these commitments are included inBemariposa Impact Areas,with which we want to reflect the positive influence of products on people and the environment: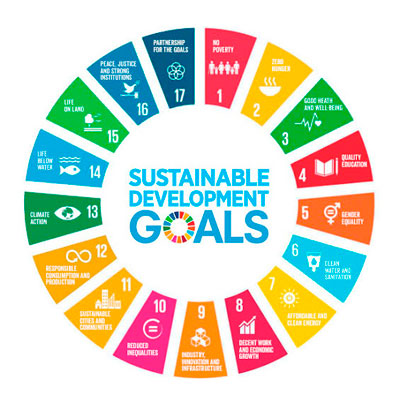 We have just started with the social and sustainable marketplace you were expecting. Follow us on social networks and share our message. Because the more people we are consuming responsibly, the closer we will be to achieving the SDGs. Can we count on you?